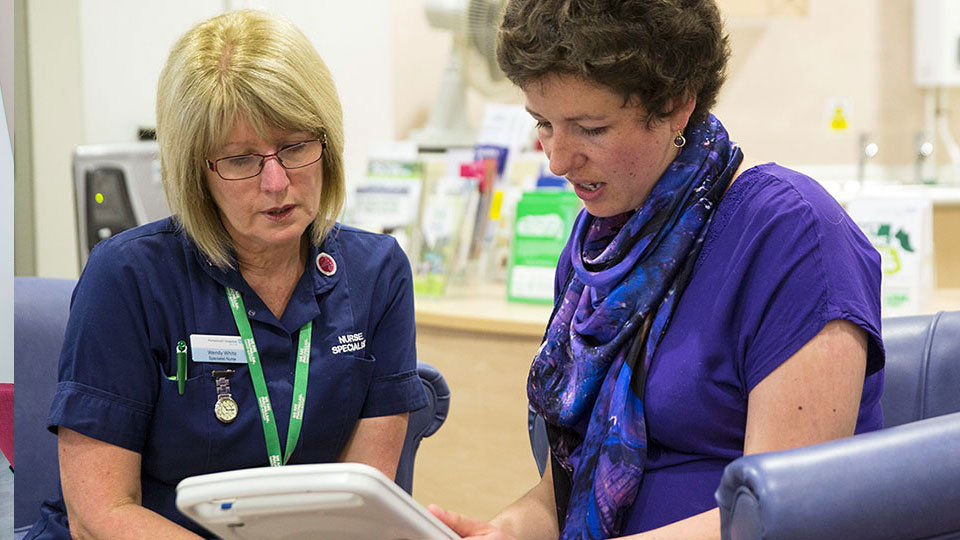 A new era for healthcare after Covid-19
Dr Mark Taubert from Velindre Cancer Centre led the first Wales Cancer Alliance seminar on his work supporting people through the Coronavirus pandemic. You can watch the seminar in full here.
Nia Campbell and Adrian Ortega wrote specially for the Wales Cancer Alliance about the seminar and their reflections on what good communication means in a healthcare setting.
In the turbulent months since the start of the pandemic, there's no denying the immense care and dedication of NHS, social services and charity staff nationwide. While the crisis has further exposed cracks in our health and social care services, it's also accelerated changes that were already in motion.
We can see clearly that many of our healthcare services have not been designed with the patient in mind. As much as we try to put patients at their centre, they haven't been designed that way from the ground up.
It's not just health and social care but true of many public services. As Lou Downe says in Good services, "(…) we don't design services, we let them happen by accident". And now we see that the cracks in the system are larger than the band-aids we desperately apply to them.
Communication is an essential part of any service. It's how we know, as users or patients, what to do, who to see, what happens next. But it's also what makes us feel heard, supported and reassured.

Now, more than ever, it's vital to reassess how we communicate and engage with each other. "The challenges of communication have upped their game," palliative medicine consultant, Dr Mark Taubert said in a recent seminar for the Wales Cancer Alliance about his experiences of having difficult conversations with patients during coronavirus.
From the strange and disconcerting effects of PPE to delivering bad news over video, Dr Taubert believes we've entered a new era of communication. "We need new tools and we need new guidance", he said, as someone on the ground dealing with disrupted services.
More empathetic communication

Good communication in healthcare isn't just what to say, but how and when to say it. It's so much more than a cup of tea and sympathy. It's the combination of empathy, delivery and timing.
They say there's never a good time for bad news. For us, we were packing to go away on holiday the morning we were summoned to the hospital. By refusing to tell us biopsy result over the phone, the doctor confirmed it was bad news.

But instead of receiving the news from the comfort of our own home, we took a taxi to the hospital under great stress before being led to an Ikea-worthy family room and given a cup of tea to hear the words: breast cancer.
While the combination of a caring face-to-face interaction and a plan to manage expectations was vital, it was impossible not to feel a part of a staged scene, a surreal reality show.
Detached and in shock, we were then (well-intentionally) overloaded with cancer brochures before even knowing the extent of the disease. The way people absorb and process information changes in times of stress, and we felt that we had no time to digest and ask questions that were relevant to us.
Too often we hear similar stories of communication problems in healthcare: where impractical targets, time constraints and competing demands leave patients feeling unheard and misunderstood. Where word choices are triggering or disempowering, excluding or alienating the people that need to be reached. Where taking a little time to consider the tone and contents of a letter avoids causing distrust or a dead end.
Shouldn't patient-centred care mean that we, as patients, have a say in how we receive information? Isn't the ultimate act of empathy in health communication considering the patient and their needs to give them relevant information at the right time, in a way that's easy to digest?
And it's not just about patients. In 2016, Marie Curie published a report arguing that poor communication in the NHS had a profound impact not only on patient care, but also on staff burnout and public funds. This call to action is four years old but more important than ever.

A better normal

We know there are major challenges ahead, especially in the world of cancer. Perhaps as we contemplate the future of these services after coronavirus, we need to rethink health communication altogether. We've moved at high speed from analogue to digital; we can see that there are better, more efficient and inclusive ways of working and communicating.

As Cancer Research Wales says in a recent blog, there's an opportunity to establish not just a new normal, but a better normal.
As mammoth a task it may seem, there are small things we can all do to get started. Call out misinformation. Take the time to consider, test and review our information to make sure that it's helpful and compassionate. Reassess and adjust our communications as patients' needs change. Think about the words and language we use so that information is inclusive and accessible to everyone who needs it, leaving no one behind. Ask questions when we don't have the answers, and get involved in conversations about conversations.
Because, at the end of the day, clear, relevant and empathetic communication is key to making services better and fairer for everyone.
Adrian Ortega and Nia Campbell are content designers and plain English advocates. They run Tidy Content, a small content design studio where they help socially-driven and value-oriented organisations communicate with clarity and empathy. They're particularly interested in the language and messages of health and social care after their shared experiences of cancer.